What's On In Ickenham
Details of What's on In Ickenham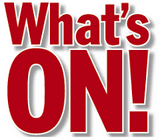 Send a message to use with details of your event using our contact page.

Your event can be recurring or a one off. We would prefer it if your event details we by way of "flyer" styled artwork but you cannot attach that to the form but we will get back to you with an e-mail address to use.
PLEASE NOTE the following are not considered "Events": - Psychic meetings, adult styled parties, religious meetings, meetings for "healings" etc.
These events should be things like plays, exercise classes, arts and crafts groups, memory café's etc.
---
You will find a listing of local recurring events on this page on Ruislip Online
---