Harefield Place
About Harefield Place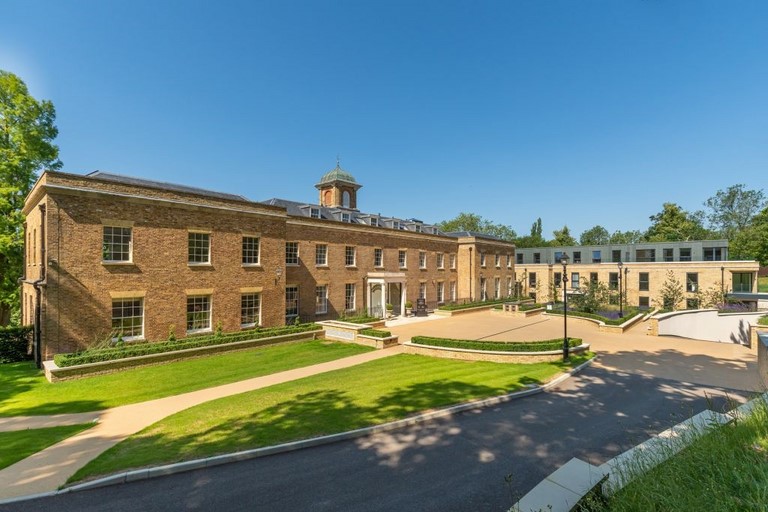 Harefield Place has now (2022) been developed by leading Buckinghamshire housebuilder Manorgrove Homes, in association with Jade Development Enterprises Limited, into 25 converted and newly built homes, set in over 8 acres of private landscaped grounds.
Harefield Place has an illustrious history. Sir Roger Newdigate, who built the current manor house, was a member of the Newdigate family, who for almost 440 years were the Lords of Harefield Manor, the baronetcy created in 1440 by King Henry VI; the estate founded in 1446
During the Tudor period Sir John Newdigate became a favourite of King Henry VIII and enlarged the estate to over 150 acres with lands seized from the church. During the reign of Queen Elizabeth I the Newdigates built (1559) a grand Elizabethan house on the estate and married into the family of neighbouring landowner Sir Thomas Egerton, Lord Chancellor to Queen Elizabeth I.
In July 1602, during one of Elizabeth 1's 'Royal progress' tours outside the capital, the Queen visited Harefield Place, hosted by the Newdigate family, Sir Thomas Egerton and his wife Alice, Countess of Derby. In the grounds of the estate Queen Elizabeth I watched a performance of Shakespeare's Othello* performed by the King's Men acting company.
When Sir Roger Newdigate inherited the baronetcy he demolished the Elizabethan house and replaced it with the current Georgian Manor House, built in 1786 by architect Henry Couchman. Sir Roger, inspired by the Shakespearean history the estate, became a major benefactor to Oxford University, supporting English writing and poetry, with Oxford's Newdigate Prize for Poetry named after the family.
In 1805 and during the early 20th Century the house was refurbished, so the current interiors have both Georgian and Edwardian architectural detailing. The final member of the Newdigate family to live at Harefield Place was Charles Newdigate (1816-1887) who inherited the estate in 1833 and added a lake and walled kitchen garden. Charles was a Conservative MP who socialised at the estate with friends including Tory leader Sir Stafford Northcote and Lord Randolph Churchill. In 1877 Newdigate sold Harefield Place to a wealthy City of London stockbroker.
In 1934 127 acres of parkland were sold to Middlesex County Council for use as housing. In 1935 the house ceased being a private home and became the Harefield Country Hospital, a maternity hospital specialising in caring for women during pregnancy and childbirth. In 1959 the hospital sold a parcel of land which is now the adjacent Harefield Place Golf Club. In 1965 the hospital was closed and Harefield Place remained vacant until 1981 when consent was provided for conversion into offices.
Between 1983-1985 the manor house and 8.5 acres of grounds were refurbished as offices, with a new build wing added. The offices served as the headquarters of Blockbuster Video up until 2014 when Blockbuster filed for bankruptcy, overtaken by films screened via Satellite and the internet.
There is a web site about Harefield Place
here